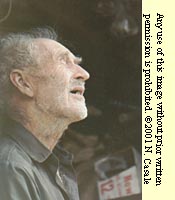 The late Lewis Smith is now recognized internationally for the talent in art that he was. Untrained, strange, and prolific, he was included in a museum show on art brut in France in 2000. He is also included in the book "ABCD une collection d'art brut". This show touresd the U.S. in 2002-3.

He lived most of his life in the woods of Ohio, alone after the death of his mother; drawing, writing, and painting on paper, cardboard, and the walls of his house and buildings. His work reflects his preoccupation with muscular women (especially boxers and wrestlers), trains, time, and money. He did not take up art until he was in his 60's. Lewis Smith passed away in 1998.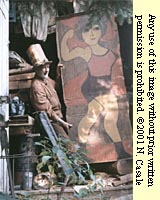 His father worked for a railroad, so Lewis and his mother got free or half-price train fare. His mother took him on many trips - and they usually stopped in the local bars and diners. You can see the local detail and feel for neighborhoods that Smith later put into many of his drawings - especially the diners.
He was widely read and subscribed to over 100 newspapers around the country. He was known for his amazing memory for detail, and family members consulted him as the family historian. He also rode his bicycle to libraries, auctions, and sales for miles around.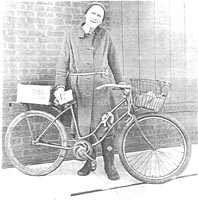 An empty box or bag was not a piece of trash to Smith. Rather, it became a space for another artwork. He found value in many other commonly discarded items. An old tool or coin was a living piece of history - a link to all the individual people who had handled it in the past. Old newspapers and magazines, empty cans, bottles, and boxes all spoke to him about people and places sometimes far removed from his Ohio home. As such they were each worth much more than we, with a "throwaway society" mentality might ever consider.