Current Featured Selection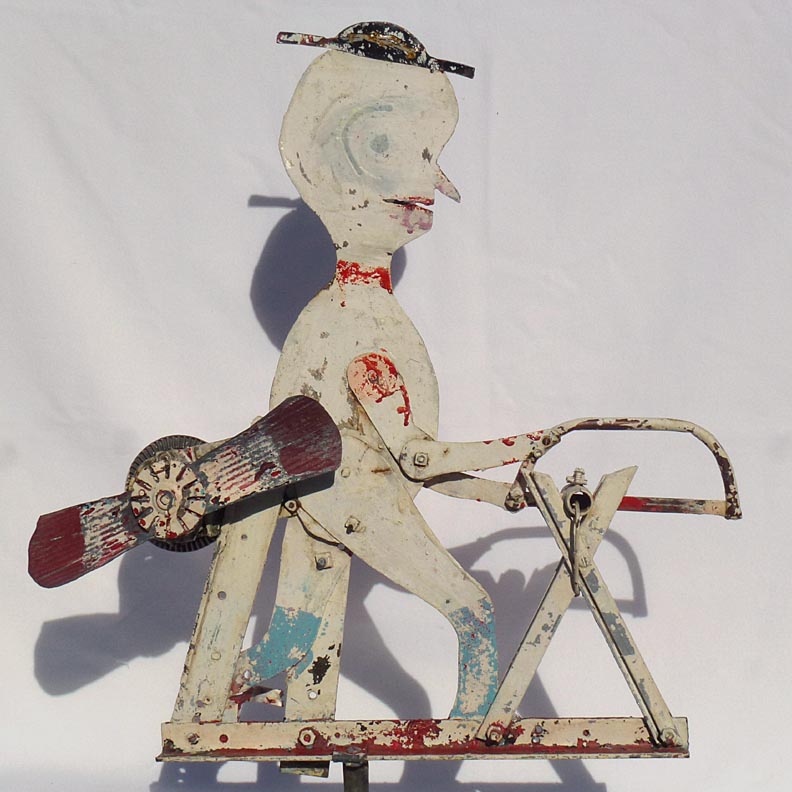 This is a very folky metal whirligig made from found objects. It has several layers of really worn and weathered paint, mainly white and red with black and yellow highlights and a fair amount of bare metal showing through. It is mounted on a newer metal display base. It stands 25 3/4" high by 18" long. From the 20th century, it is in good, sturdy, very weathered condition. The action works. The price is $1200.00. Inventory Code: CWWH. Metal whirligig ... The other side ... End views ... From above ... With a soda can for scale ...

Video of the action.


The regular price is $1200.00.
The feature sale price, for a limited time, is $775.00.


This sale was posted February 7, 2023. The sale prices are
only
good until sold or until we post a new sale.
If you have
registered
for updates, you can automatically receive an e-mail notice of new sale items.
Register to receive email updates when we add new items.
Your information is confidential. We
never
release it to others.
Our Privacy Policy

Home Page | Site Guide | Top of page | Inventory | Ordering | Contents | Search
What's New | Using the Site | Resources | Featured Sale | Contact Us


Comments:
Artisans: Matt Lippa or Elizabeth Schaaf
(256) 886-2809 (9AM - 5PM Central Time Only please.)
Mailing address