Folk Art Pottery
Folk art, antiques, and outsider art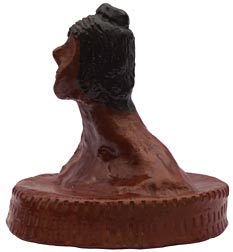 This is a redware head of a woman. It is finished in glossy clear and black glaze. As far as we know, it was made in Georgia. The letters "K S" are incised in the bottom. It is a little on the "strange" side and is out of perspective. It appears old, but the age is unknown. It is 7" high, the base is approximately 6 3/4" in diameter, and it is in excellent condition with one very small flake on the side of the base. The price is $110.00. Inventory Code: PSAP. Redware bust ... Front view ... Third view ... Side view ... The other side ... Another angle ... Back view ... Another view from back ... From above ... From below ... With a soda can for scale.

Register to receive updates when we add new items.
Your information is confidential. We never release it to others. Privacy policy.
Required Fields

If there is any problem with registering, please

Home Page | Site Guide | Top of page | Inventory | Ordering | Contents | Search
What's New | Using the Site | Resources | Featured Sale | Contact Us


Comments:
Artisans: Matt Lippa or Elizabeth Schaaf
(256) 886-2809 (9AM - 5PM Central Time Only please.)
Copyright © 1995-2021 Artisans. All Rights Reserved.