Canes and Walking Sticks
Folk art, antiques, and outsider art


Click on a photo for details Use the 4 letter code when referring to items.

NOTE: The canes below came from the collection of Herbert Hemphill, the noted folk art collector.

This is an old, circular, wooden cane holder or umbrella stand. It was made as an octagon from 8 pieces of hardwood pieced and mortised together which were then turned on a lathe so it is round on the outside. It was then fixed to a turned base. All of this was finished with a very dark varnish, which has darkened more with age. This piece is in very good condition with some wear in the varnish, and stands 19" high with and outer diameter of 10" on top and 12" across the base. The opening is about 8". The price is $85.00. Inventory Code: ARPT. Wooden cane holder ... The other side ... From above ... Closeup of base ... Another angle ... Bottom.



Here is a nice, simple, attractive hand carved cane which was then painted a deep reddish brown with fine black striping. It has a metal ferrule on the tip with the number 908 painted on in white. It has been used, but is in very good, sturdy condition with only a little wear. It seems to be about 60 or 70 years old, and is 35" long. The price is $55.00. Inventory Code: ARPC. Carved, painted cane ... Closeups of detail ... Other side of top.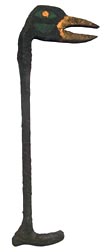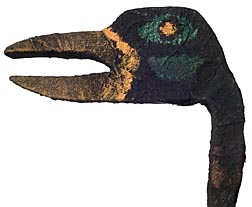 This is a weird little cane carved like a bird with a long neck and foot. It is made from wood and has been covered with something like hardened cheesecloth which has then been painted. This seems to be unused as a walking stick, and is really more of a decorative piece. It is not new, but probably not too old - maybe 1970's or so? It has nice texture, form and color, and is almost 27" long. The price is $75.00. Inventory Code: ARAA. Cane carved with bird head and foot ... Closeup of head ... Closeup other side.

Register to receive updates when we add new items.
Your information is confidential. We never release it to others. Privacy policy.
Required Fields

If there is any problem with registering, please

Home Page | Site Guide | Top of page | Inventory | Ordering | Contents | Search
What's New | Using the Site | Resources | Featured Sale | Contact Us


Comments:
Artisans: Matt Lippa or Elizabeth Schaaf
(256) 886-2809 (9AM - 5PM Central Time Only please.)
Copyright © 1995-2021 Artisans. All Rights Reserved.