Tramp Art
Folk art, antiques, and outsider art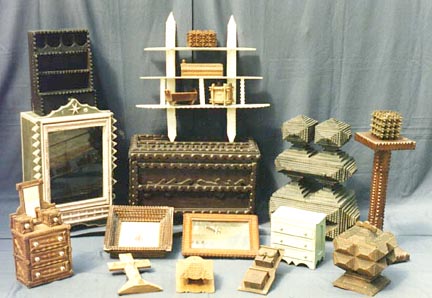 Some examples of Tramp Art
"Tramp" is considered a type of Folk Art. In America it was primarily made from the end of the Civil War through the 1930's. It comes from carving and decorating methods which are much older, originating mostly from Germany and Scandinavia. "Trampen" probably refers to the itinerant stages of Middle Ages craft apprenticeship. The carving techniques were also used for practice.
Tramp Art was spread by soldiers in the Civil War, and primarily practiced where there was a plentiful and free supply of materials such as cigar boxes and fruit crates. It is generally incorrect that this work was done by tramps or hobos as payment for room or meals. The larger pieces especially, would have required a lengthy stay in one place.
There is a great variety of Tramp Art, from small boxes and frames, which are the most common, to large furniture and intricate objects. The most common method of decoration is chip carving with several layers built one on top of another. There are several variations of that form; and others such as "Crown of Thorns" - an interlocking method - which are completely different.
The most common finishes were lacquer or stain; although paints were also used. The value of Tramp Art varies according to size, detail, surface, and complexity. The new collector should be aware that Tramp Art is being made today. While some sell it as new, others are offering it as old. In addition, many people mistakenly use the term as a catchall phrase to refer to forms of construction - especially things they are uncertain about.
Schroeder's Antique price guide, thirteenth edition, 1995. Copyright Schroeder Publishing Co., Inc. 1995 Copies of this book may be ordered from Collector Books.



Home Page | Site Guide | Top of page | Inventory | Ordering | Contents | Search
What's New | Using the Site | Resources | Featured Sale | Contact Us


Comments:
Artisans: Matt Lippa or Elizabeth Schaaf
(256) 886-2809 (9AM - 5PM Central Time Only please.)
Copyright © Artisans. All Rights Reserved.