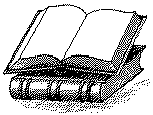 Messages From the Garden,
a videotape on Howard Finster, by G. S. Milsap and Kyle Caldwell.

Our Review
If you're looking for a short tape which gives a view of the personal side of Howard Finster, albeit rather limited, then this is it. If you are looking for an in-depth treatment of him as a person or his art; images of his works or a tour of Paradise Garden, this is not that resource.
The producers describe this as to "bring you into the world of Howard Finster the artist, storyteller, songwriter, and visionary...". While it certainly goes there, "Messages" fails to go into them with much detail. There are however, some interesting glimpses of Howard Finster, with a strong emphasis on his Biblical teachings. We will leave it up to the viewer to determine their validity.
The strength of this video is that it does present a look that is not available unless you actually visit with Howard. Perhaps the strongest parts are the incorporation of Howard's voice with images of his work. The production; however is sketchy and uneven - ranging from intruiging to overly "arty" and a few times is downright physically irritating with some of the effects.
With this said, in balance you will probably get a better understanding of Howard Finster's personality and how it is expressed through his work.
Artisans does not sell videos. At the time of this review this is available from the producers for distribution at 1293 Lanier Blvd., Atlanta, GA 30306 or single copy by calling 1-800-FINSTER. (No more comment on THAT!). 29 minutes, $29.95.
All reviews
Folk Art and Unusual Antiques for sale


Home Page | Site Guide | Top of Page | Inventory | Ordering | Contents | Search
What's New | Using the Site | Resources | Featured Sale | Contact Us



Comments:
Artisans: Matt Lippa or Elizabeth Schaaf
P.O. Box 256, Mentone, AL 35984 USA
(256) 634-4037 (9AM - 8PM Central Time Only please.)
Copyright © 1995-2008 Artisans. All Rights Reserved.