Shooting Gallery Targets
Folk art, antiques, and outsider art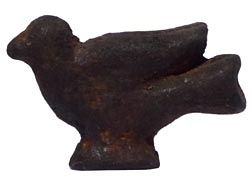 This is a cast iron bird shooting gallery target. It is 3 3/4" long by 2 1/2" high by 1" deep, with a dark oxidized surface and faint traces of paint. From the early 1900's, it is in very good, used condition. The price is $125.00. Inventory Code: CTRT. Bird shooting gallery target, with a soda can for scale ... Back view ... End views ... From above and below.

Register to receive updates when we add new items.
Your information is confidential. We never release it to others. Privacy policy.
Required Fields

If there is any problem with registering, please

Home Page | Site Guide | Top of page | Inventory | Ordering | Contents | Search
What's New | Using the Site | Resources | Featured Sale | Contact Us


Comments:
Artisans: Matt Lippa or Elizabeth Schaaf
(256) 886-2809 (9AM - 5PM Central Time Only please.)
Copyright © 1995-2018 Artisans. All Rights Reserved.