Current Featured Selection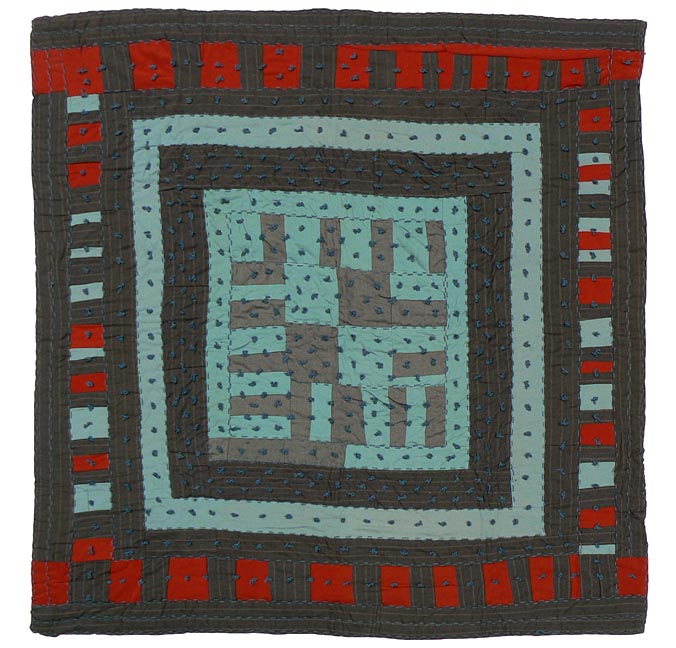 This is a great abstract quilt with very strong color and graphics. It is machine and hand pieced from wool suiting and lightweight wool fabric. One patch even has part of the suit pocket! It has a flannel back, and is hand tied with blue wool yarn. There is a light weight blanket inside instead of batting. This quilt was found in Ohio, and is in excellent, unused, near mint condition. There is one small spot and one small tear on the back, each less than 1/2". Neither shows through to the front. It measures about 69 1/2" by 69". The age is unknown: it appears to be 1930's or 40's, but could be considerably older. The price is $1150.00. Inventory Code: TRAC.

See a slideshow of several views [688k] ... Abstract quilt ... Closeup of the center ... Closeup, upper right ... Closeup, upper left ... Closeup, lower left ... Closeup, lower right ... Extreme closeup of detail ... Closeup of the pocket ... Back view ... Closeup of the back ... Another closeup of the back.


The regular price is $1150.00.
The feature sale price, for a limited time, is $950.00.


This sale was posted October 17, 2017. The sale prices are
only
good until sold or until we post a new sale.
If you have
registered
for updates, you can automatically receive an e-mail notice of new sale items.
Register to receive updates when we add new items.
Your information is confidential. We never release it to others. Privacy policy.
Required Fields

If there is any problem with registering, please

Home Page | Site Guide | Top of page | Inventory | Ordering | Contents | Search
What's New | Using the Site | Resources | Featured Sale | Contact Us


Comments:
Artisans: Matt Lippa or Elizabeth Schaaf
(256) 886-2809 (9AM - 5PM Central Time Only please.)
Copyright © 1995-2017 Artisans. All Rights Reserved.