Current Featured Selection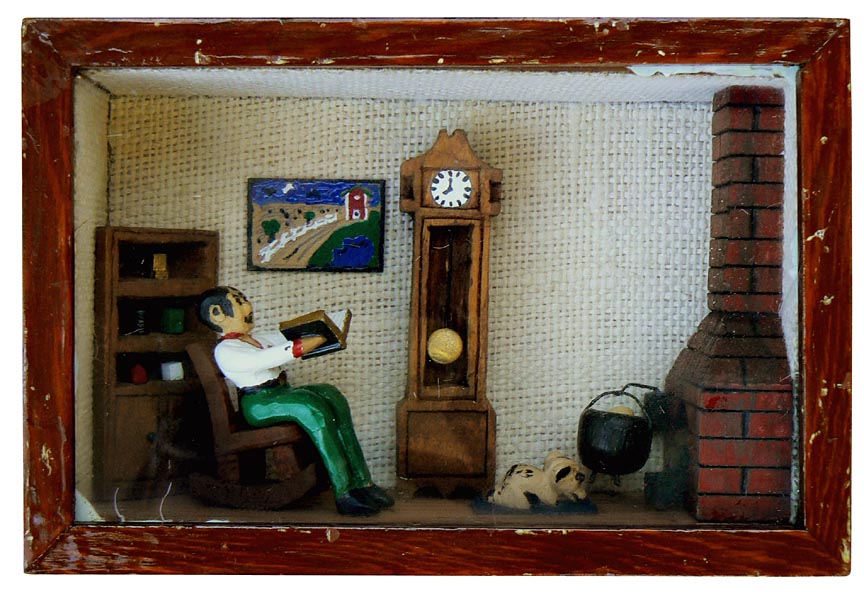 This is an intricate and detailed scene set in a living room, displayed in a shadow box. All of the items are hand made, carved, and painted. Included are a man in a rocking chair, dog, grandfather clock, fireplace and chimney, mounted cook pot, wall hanging, and corner cupboard. The man is reading a book, cupboard contains additional items, and the dog is lying on a rug atop a wood floor. The box is made from plywood, with a glass front, and a glossy finish to the surface. Inside, the wall and ceiling are lined with burlap. All the pieces making up the scene are very realistic and well done. Adding to the intricacy is the small size. The entire shadow box is only 7 3/4" wide by 5 1/4" high. It is 3" deep. The scene is in very good, sturdy condition, with nothing loose. The condition of the wood box is good, with some slight chipping of the surface. The age is unknown, but it was probably made about the mid 1900's. Inventory Code: TWCA. Shadowbox with carvings ... From an angle ... From another angle ... From above ... Closeup of the pet ... Side views ... From above ... From below ... Back ... With a soda can for scale.


The regular price is $350.00.
The feature sale price, for a limited time, is $265.00.


This sale was posted April 18, 2018. The sale prices are
only
good until sold or until we post a new sale.
If you have
registered
for updates, you can automatically receive an e-mail notice of new sale items.
Register to receive updates when we add new items.
Your information is confidential. We never release it to others. Privacy policy.
Required Fields

If there is any problem with registering, please

Home Page | Site Guide | Top of page | Inventory | Ordering | Contents | Search
What's New | Using the Site | Resources | Featured Sale | Contact Us


Comments:
Artisans: Matt Lippa or Elizabeth Schaaf
(256) 886-2809 (9AM - 5PM Central Time Only please.)
Copyright © 1995-2018 Artisans. All Rights Reserved.