Current Featured Selection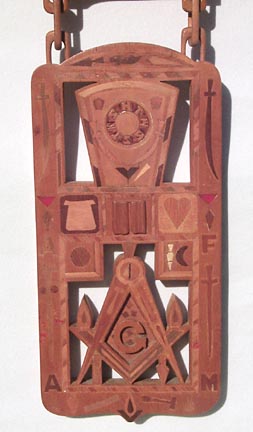 This an extraordinary, one of a kind, folk art piece. It is a very large, extremely detailed marquetry whimsey with a fraternal theme; including many carved and inlaid elements. This has so much intricate work that more things continue be seen and be appreciated even after several viewings. We have included many pictures that will convey some of the quality of this piece; however, it will still surprise and delight even more, when held in person.
Following is just a brief description of some of what is in this piece. To be complete would take more than reasonable here. Please let your eyes tell more of the story. This work is over 49" long, 5 1/2" wide, and over 1 1/4" deep in parts. It is decorated on the sides as well as the front. It includes Crosses, Ankhs, stars, hearts, Bibles, scrolls, spears, and other Masonic, Shriner, Eastern Star, and Odd Fellows symbols. Each section is held together with carved links; and the entire carving is made from one piece of wood. There is one carved ball in cage, relief carving, and a section inlaid with bone or ivory. There are inlaid words, and letters; and it is decorated with a multitude of symbology. This piece is in extremely good condition; although not completely "perfect". There is a slight crack in one link, and one has been reglued in part. There is also a little bit of red color which is on the lowest section. There is no loss that we can see. One section has hand painted the words "Memorial Day 1947". We would date it from that time. The back is inscribed "To Vernon Thompson for Mike". Inventory Code: TSOH. Inlaid fraternal whimsey ... Closeup of top section ... Another view ... Side view.
Second section: Front view ... Closeup ... Another closeup ... One side ... The other side.
Third section: Front view ... One side ... The other side.
Fourth section: Front view ... One side ... Another view ... The other side.
Bottom section: Front view ... Closeup ... Another closeup ... One side ... The other side.
The back: Upper back ... Middle back ... Lower back ... Closeup of inscription.


The regular price is $1250.00.
The feature sale price, for a limited time, is $995.00.


This sale was posted April 4, 2019. The sale prices are
only
good until sold or until we post a new sale.
If you have
registered
for updates, you can automatically receive an e-mail notice of new sale items.
Register to receive updates when we add new items.
Your information is confidential. We never release it to others. Privacy policy.
Required Fields

If there is any problem with registering, please

Home Page | Site Guide | Top of page | Inventory | Ordering | Contents | Search
What's New | Using the Site | Resources | Featured Sale | Contact Us


Comments:
Artisans: Matt Lippa or Elizabeth Schaaf
(256) 886-2809 (9AM - 5PM Central Time Only please.)
Copyright © 1995-2019 Artisans. All Rights Reserved.