Current Featured Selection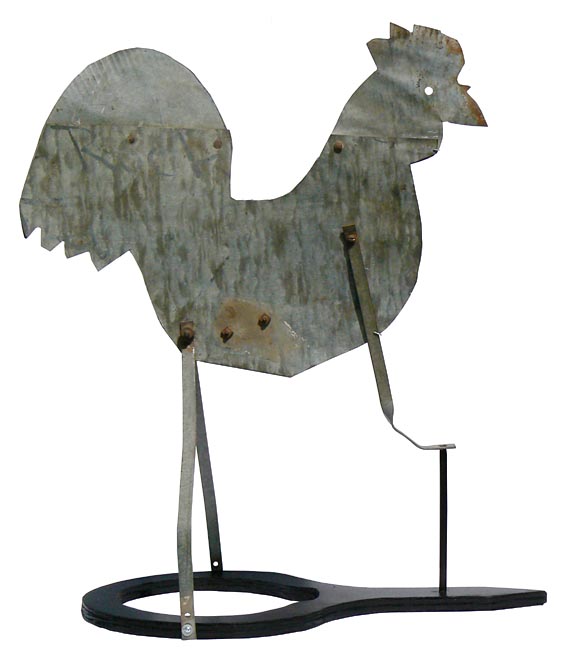 This is a very folky one-of-a-kind rooster weathervane made from galvanized sheet metal. The rooster was hand cut from two pieces and put together. It then was bolted with supports to part of a ventilator from a silo or barn, which had a shaft with a hole put inside so the entire piece could rotate in the wind. The word "Rock" is painted on one side of the tail in subtle, silver-gray paint. This unusual piece came from the Midwest, likely Iowa, and was probably made in the 1940's or 50's. Being metal, there is some little rust, oxidation, and outside wear, but it is in generally very good condition. The body of the rooster is 23" long by 19" high. It has been mounted on a wood display base. As mounted, it is 26 1/2" long by 28 1/4" high by 13 1/2" wide. We still have the ventilator, and it can be easily reassembled if you prefer it mounted that way. Inventory Code: AKOT.

See a slideshow of several views [518k] ... Metal rooster ... The other side ... Another angle ... Closeup ... Closeup, other side ... Closeup of head ... Closeup of tail, with "Rock" ... Closeup of body ... Closeup of head, other side ... Tail, other side ... Body, other side ... Front and back views ... Closeup from the front ... Closeup of the base ... Mounted on the ventilator ... Front view, on ventilator ... With a soda can for scale.


The regular price is $475.00.
The feature sale price, for a limited time, is $350.00.


This sale was posted June 27, 2017. The sale prices are
only
good until sold or until we post a new sale.
If you have
registered
for updates, you can automatically receive an e-mail notice of new sale items.
Register to receive updates when we add new items.
Your information is confidential. We never release it to others. Privacy policy.
Required Fields

If there is any problem with registering, please

Home Page | Site Guide | Top of page | Inventory | Ordering | Contents | Search
What's New | Using the Site | Resources | Featured Sale | Contact Us


Comments:
Artisans: Matt Lippa or Elizabeth Schaaf
(256) 886-2809 (9AM - 5PM Central Time Only please.)
Copyright © 1995-2017 Artisans. All Rights Reserved.