Extraordinary, very detailed folk art model of a Jewish Temple or tomb with stone carvings. Dated 1850, 17 1/2" wide.




Beautiful and detailed memory ware pedestal, early 1900's, 28" high.




Bottle whimsey with an amazingly intricate root formation inside. 7 3/4" high by 2 1/2" square.



Pair of iron bog shoes, like snowshoes, but made of metal. From MI, early 1900's, good form, surface. 37 1/4" long.




5 piece set of rustic cedar table ware, 1940's, very good condition.




A decorative old painted sled with a comet, 1950's/60's, in very good condition, 62" long.



A French bottle whimsey with two orchard workers picking apples in a cut glass bottle filled with water. 9 1/2" high, in excellent condition.


An absolutely wonderful, folky small cupboard from York, PA. C. 1900, 58" high, marvelous patina, a marquetry drawer, excellent condition.



Carved whimsey with 1904 Indian Head pennies set in.



Painting on metal roofing. The hands have been hammered to have depth. 26" by 40".



This is an old, rustic twig stand, with a great look and surface. 1930's or earlier, 27 1/4" high, 31" wide, and 15" deep, in excellent, sturdy condition.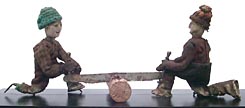 One of an extraordinary collection of hand carved, jointed and movable figures which make up a logging scene. People, horses, wagons, sleds with detailed harness and original clothing, c. 1910. This is a large grouping.




A very detailed carved and painted wooden desk frame. From France, dated 1945.



Large attractive coil or wreath of old zinc barbed wire. 30" in diameter, old, in good condition. Very decorative.



An especially nice and intricate crown of thorns cross with a folky wood carving of Jesus. 15 1/4" high, in excellent condition.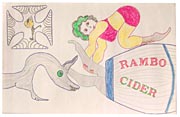 Rambo Cider, by the late Lewis Smith of Ohio. Ink, marker, and crayon, 11" by 17". More like this.




Popsicle stick bowl.




A pair of concrete bookends, painted black with raised crosses in gold. Each one is 7" high, 1920's/30's.



A very sculptural looking old window, in old white paint on one side and green on the other, 31 1/2" high.



An inlaid dresser box with two frames which swivel, decorated with 10 carved and applied hearts. 13" wide, made c. 1950.



Early 20th century memory cane holder or umbrella stand built over a sewer tile pipe. Elaborately decorated, excellent condition, 26" tall.



Carved, primitive push-pull toy with a detailed painted Indian and funky bear. 9" long, 8 1/4" high, and 3" wide.



Clock case made by the Rev. Howard Finster, with nice painted decoration, the original, working clock and original print. 22 1/2" high.



Strange metal and wood contraption, likely a parade torch or flambeau. Attractive metalwork, unusual and decorative. Probably early 1900's, good condition, 33" long.



Very decorative, antique, funky, wooden garden seeder. Late 1800's/early 1900's, hand made, great surface. 6 feet long.




Hand carved cane painted a deep reddish brown with fine black striping. 60 to 70 years old.



Hand carved wooden cane decorated in paints, rhinestones, inlaid costume jewelry, and the name Jesus. 1940's, 48" high.



Old, very decorative, sculptural metal ironing board. 1930's/40's, 50" high, very good condition




4 goose yard ornaments from Maine,31" long, good, weathered condition.




Popsicle stick lamp decorated with small, glossy black tiles. Fine working order and condition, 13" high, from AL.




African-American quilt with great graphics. Hand pieced, velvets and fake fur, 72" by 77" in excellent, unused condition. From Savannah, GA, 1970's or earlier.




Two interesting and decorative folding anchors. 8 1/2" long, 7" across, galvanized iron with a nice surface.




Graphic African American quilt top from east Texas. Hand pieced cotton, mid 20th c., 85" by 74", in excellent, unwashed condition.




Folky house with chip carved tramp art, great old red, white, and blue paint, glass windows. Early 1900's, 20" long, good condition.




Seven old iron industrial valves.




Graphic 1930's Dutch Boy "Wet Paint" sign. 10 1/2" w, 12 3/4" w as framed.




Bottle cap pitcher.



Exceptionally nice, old, metal plant stand, with an Art Deco look. 39" high, 1920's or 30's, in excellent condition.



Large, thick, cast iron industrial gear with good form, dark oxidized surface. In excellent condition, 9" in diameter by 5" thick; as mounted the overall height is 14 3/4".



Two folk paintings from either Haiti or the Dominican Republic. Water color, in metal frames under glass, signed "Jack '88". They are colorful, in excellent condition, 16 1/4" by 20 1/4".



Tourist ware pottery planter, c. 1940s, 7 3/4" in diameter, excellent condition. One of several pieces of tourist ware from the Ozarks and Appalachia.




Popsicle stick lamp in excellent condition, 1960's or 70's, 23 1/2" high.




Very large, striking African-American carving of a hand and egg. 31" high, old, very good condition, with enormous "look" and presence.



A very detailed model house/birdhouse. 1940's, very good condition,14 3/4" by 19 1/2".



The quintessential 1960's folk music carving, with exceptional form, detail, and color. 10 1/2" high, almost perfect condition, signed.


A nice wooden horse weathervane with spark plug, weathered paint. 44 1/2" long, from Indiana, c. 1940's, in very good condition.





An extraordinary, very large, extremely detailed marquetry whimsey with a fraternal theme. Over 49" long, signed and dated 1947.



Miniature dresser with great blue/green and cream colors, nice patina. 13" high with two small doors which open, made about 1930.



Carved whimsey, with 3 balls-in-cages and sections carved with a twisted wood effect. Unusual technique of piecing many strips of different woods together before carving it. In excellent condition, 19 1/2" long, around 50 years old.



Tough Cowgirls, by Lewis Smith. Crayon, ink, and marker on the separated top layer of corrugated cardboard, 27" by 27". More Smith drawings on cardboard.



Two large and funky yard art people with great character. One is a birdhouse. From found objects, each 46" high, excellent weathered condition.




Birdhouse with 12 apartments, made from an oak barrel.



2 Cast iron snowbirds from PA, early 1900's.



Planetscape and spaceship, by the late Robert E. Gilbert. There are many more scenes of other worlds on his home page.



Painted twig birdhouse with pinestraw roof.




Whimsical whirligig sawyer with a pipe, 26" long.




Political memory bottle covered with Republican campaign buttons, flags, plastic marching band figures, bullets, a soldier, etc. From the 1970's.




Carved husky dog only 2 1/4" long.



Home made one-string electric bass, made of wood, covered by Naugahyde on the sides and part of a chenille spread on the front. 24" high.



"Universe". Metal sculpture made from roofing tin, acrylics, and automobile glass. 22" high plus stand. 1995, vibrant colors.



Very folky metal rooster weathervane, 1940's or 50's, very good condition, 23" long.




An incredible, large, early carving of a black family. 26 1/2" high by 15" wide by 12" deep, very good condition.


An old wooden gate with a wonderful weatherbeaten, rustic country look, from the early 20th century.



Exceptionally intricate twig and burl table with cross. 32" wide. Made about 2000 by NC artist, signed, excellent condition.



Old hand made painted metal shrine, probably Afro-Caribbean. 12" in diameter, 54" high.



Two carved and jointed men by the same maker, painted red and black, each 6 3/4" high. Very good condition, early 1900's, possibly earlier.





Two-sided metal country store sign, 30" high, c. 1950's.




Bottle whimsey: brightly painted train inside.




Figural whimsey carving. 2 balls, with man's head.




Seven cast iron fence finials from the early 1900's.




Primitive carved head of a bearded man.




Unusual two-piece tabletop millstone.




Crown of thorns tramp art doll bed.




1 of several outstanding Art Deco wood engraving prints by John Farleigh.



An animated redware toad, unglazed, with orange painted mouth, 5 1/2" long.